Michael Schwirtz, Andrew E. Kramer and Michael Levenson reported on the front page of Sunday's New York Times that, "President Vladimir V. Putin warned on Saturday that crippling economic sanctions imposed by the West were 'akin to a declaration of war,' as the Russian military pummeled civilian targets and continued shelling near the first protected routes intended to allow besieged Ukrainians to flee, apparently violating a cease-fire that had been agreed to only hours earlier."
On Friday, Bloomberg writer Megan Durisin reported that, "Global food prices jumped to a record last month, just as Russia's invasion of Ukraine started causing chaos in global crop trading that will likely push costs up even more.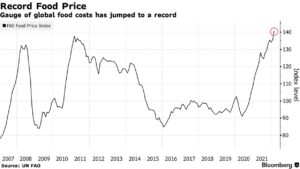 "A United Nations' index of costs was already near a peak set in 2011 before the war disrupted exports out of the Black Sea region that's known as the world's breadbasket. Since then, grain and vegetable-oil prices have rocketed to fresh records or multiyear highs, piling more inflationary pressure on consumers and governments and threatening to worsen a global hunger crisis."
The Bloomberg article pointed out that, "'Concerns over crop conditions and adequate export availabilities explain only a part of the current global food price increases,' Upali Galketi Aratchilage, an economist at the UN's Food and Agriculture Organization, said in a report. 'A much bigger push for food price inflation comes from outside food production, particularly the energy, fertilizer and feed sectors.'"
Regarding the importance of fertilizer, Wall Street Journal writers Luciana Magalhaes and Samantha Pearson reported on Saturday that, "Brazil is searching for new fertilizer suppliers as the war in Ukraine threatens to cut off shipments to one of the world's breadbaskets, with potential ripple effects on already high global food inflation."
Also late last week, Reuters News reported that, "World food prices hit a record high in February, led by a surge in vegetable oils and dairy products, to post a 20.7% increase year-on-year, the U.N. food agency said on Friday."
Bloomberg writers Irina Anghel and Megan Durisin reported on Saturday that, "Combat in the fertile Black Sea region, and the ensuing international pullback in doing business with Russia, is strangling trade in wheat, vegetable oils, corn and the fertilizer to grow them, and tighter supplies get more expensive by the day."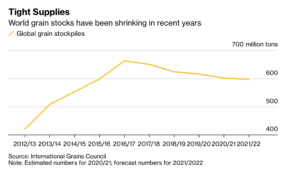 Reuters writer Rod Nickel reported on Friday that, "Russia's invasion of Ukraine, one of the world's breadbasket nations, has driven wheat prices to 14-year highs, forcing bread consumers to eat the cost."
Nickel pointed out that, "Supply disruptions from Russia and Ukraine, which together account for 30% of world wheat exports and 20% of corn exports, will erode food security for millions of people, with the Middle East and north Africa especially vulnerable due to their reliance on imports, said Julie Marshall, spokesperson for the World Food Programme."
Meanwhile, Reuters News reported late last week that, "Hungary banned all grain exports effective immediately due to price increases caused by the Russian invasion of Ukraine, minister of agriculture Istvan Nagy told television channel RTL on Friday."
In addition, Bloomberg writers Megan Durisin, Slav Okov, and Zoltan Simon reported on Friday that, "Argentina and Turkey also made moves this week to increase their control over local products. And Moldova, albeit a small shipper, temporarily halted exports of wheat, corn and sugar from this month."
On Saturday, Reuters writer Tsvetelia Tsolova reported that, "Bulgaria plans to beef up its grain reserves and buy enough grain from local producers to ensure domestic needs for a year ahead as it weighs in risks from Russia's invasion of Ukraine and volatility of grain markets, its deputy premier said.
"Grain producers in the Black Sea country said the state plans to buy about 1.5 million tonnes of wheat out of 3 million tonnes that are still in the country's silos and might restrict wheat exports until it has carried out the planned purchases."
On the other hand, Reuters writer Mayank Bhardwaj reported on Saturday that, "India is set to export a record 7 million tonnes of wheat this year as a rally in global prices gives the world's second biggest producer of the grain an opportunity to gain market share, a top government official said."
In news regarding sunflower oil, Reuters writer Gus Trompiz reported late last week that, "The European Union is facing a shortfall in sunflower oil as war blocks exports from key supplier Ukraine, vegetable oil industry group FEDIOL said on Friday."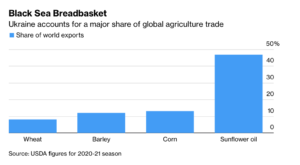 Beyond the EU, James T. Areddy reported in Saturday's Wall Street Journal that, "Ukraine sold China the hull of what became its first aircraft carrier and supplies 70% of the country's imported sunflower oil, a cooking ingredient as important as rice. Chinese dealers are already signaling supply disruptions of sunflower oil that could add costs to price-sensitive households."
Nonetheless, Reuters writers Hallie Gu and Shivani Singh reported last week that, "China will ensure key agricultural product supplies this year, including grains, according to a government work report released at the start of the country's annual meeting of parliament on Saturday."